A ShockSims kit provides a plug-n-play solution for replacing stock magnetic (FE4 - F55 - Z95) suspension on the latest generation of GM vehicles.
Eliminating any Service Suspension messages or speed limiters (80mph) imposed by a 'suspension malfunction.'
The shock and ride height simulators work together at each corner of the vehicle so the SCM (Suspension Control Module) thinks the ride height is stable/stock and the shocks are connected.

Our modules utilize OEM connectors and rugged thermoconductive epoxy approved for automotive applications. They have been tested in the most extreme vehicle environments.

After our kit is installed you can replace OEM with any non-magnetic shock/strut assembly or coil over. Most of our Truck/SUV customers prefer the ease of installation of a fully assembled quick strut. Example: Monroe 139104, Fox 2.0/2.5, etc. See FAQ below for more suggested replacement struts and shocks.

Full Kit: $435 Shipped
Includes- 4 Shock Simulators and 4 Ride Height Sensor simulators
   For bypassing front and rear shocks

Half Kit: $260 Shipped
Includes- 2 Shock Simulators and 2 Ride Height Sensor simulators
   For bypassing the front shocks only

Follow the link below to checkout.
Be sure to select the kit and enter your vehicle information.

Most customers will receive their kit in 2 business days, see map on checkout page.
We ship every weekday via USPS Priority Mail from zip 32766
Orders placed before 2PM EST will ship the same business day.

Z95 - (2015 to 2020) Yukon/YukonXL Denali Tahoe/Suburban Escalade Magneride
Z95 - (2015 to 2018) GMC Sierra Denali
Z45 - (2019+) GMC Sierra Denali
F55 - (2013 to 2019) Cadillac ATS Magnetic Ride Control
F55 - (2014 to 2019) Cadillac CTS Magnetic Ride Control
FE4 - (2014 to 2019) Corvette Z51/Z06 Magnetic Selective Ride Control
F55 - (2012 to 2020)* Camaro (SS, ZL1, Z/28) Magnetic Ride Control
* All 6th Gen (2016+) Camaros supported, call us about your 5th Gen Camaro
RPO Z95 SUVs (Suburban LTZ, YukonXL Denali, Tahoe LTZ, Yukon Denali)
-Front: 2 Magneride Struts
-Rear: 2 Magneride Air (Auto-Level) Shocks

RPO Z95 Trucks (GMC Sierra Denali)
-Front: 2 Magneride Struts
-Rear: 2 Magneride Shocks

Most of our SUV customers that need front struts go with a pair of:
Monroe front struts: 139104 and our half kit.
Compatible with Tahoe/Suburban LTZ, Yukon/Yukon XL Denali, Escalade.
Including factory 22" wheels

Other Helpful part numbers:
Monroe rear shock: 911506 (non-magnetic, WITHOUT auto level air)

See FAQ below about non-magnetic Auto Level Rear options
(non-magnetic, WITH auto level air)
AC Delco rear shock: 540-1675 (2015 Escalade, Suburban, Tahoe, Yukon, YukonXL)
AC Delco rear shock: 540-1723 (2016-2020 Suburban, Tahoe, Yukon, YukonXL, 16-19 Escalade)

Fox Part Numbers
2015 and up Suburban, Tahoe, Yukon, YukonXL, Escalade and Sierra
Front Coilover: 985-02-018
Rear shocks: 980-24-660

Sierra Truck Monroe Part Numbers
2015 and up Sierra Denali
Front (4WD): 239112
Front (2WD): 139112

Be sure to double check part number compatibitlity with your year and model or give us a call.
'Strut' and 'Shock' will be used interchangeably. Front Shocks are coil-over strut assemblies. Rear shocks are shocks.
Half Kit - 2 Shock simulators, 2 RHS Simulators
Full Kit - 4 Shock simulators, 4 RHS Simulators
AutoLevel Kit - 4 Shock simulators, 2 RHS Simulators (front)
RHS - Ride Height Sensor
SCM - Suspension Control Module
RPO Z95 Suspension Package, Magnetic Ride Control - Magneride
Yes! OEM hardware encapsulated in thermo-conductive epoxy. Solvent and acid Resistant, for harsh environment Every unit end-of-line tested Made in the USA
Of course. 1 year warranty comes with the kit purchase.
Shock Simulator Dimension: 2.5" x 1.0" x 0.8"
Ride Height Simulator Dimension: 1.8" x 1.0" x 0.7"
0.5 oz (each)
It is a plug and play system that can be installed in minutes if the connectors are already accessible.
Install start to finish will be under an hour.
See the Instructions section below for more detail and videos
The SCM or Suspension Control Module is in control. The suspension control module (SCM) commands variable levels of current to each shock absorber actuator in response to rough road, braking or abrupt steering maneuver driving conditions. The current variation is performed by pulse width modulation (PWM) of the system voltage. The SCM continuously measures the actual current of each actuator. When a deviation between commanded and actual current is detected, a DTC is set.
The SCM provides current to the shocks via 2 term connector the terminals for each shock are labeled:

Strut Motor Decrease Damping Control Strut Motor Increase Damping Control

The electronic suspension control system, individually controls the damping force of each of the four shock absorbers in order to keep the vehicle's body as calm as possible. Changes of the damping forces can be accomplished within milliseconds. Suspension characteristics can be changed at any time by activating the driver control mode. The electronic suspension control system consists of the following major components:

-Suspension control module (connected to 3 CAN busses)

-Four corner position sensors

-Four magnetorheological shock absorber actuators or struts

-Driver mode control switch

The SCM controls the damping forces according to the following factors:

-Vehicle speed

-Steering wheel position

-Engine torque

-Brake pressure

The SCM evaluates these inputs in order to separately control the shock absorbers, providing an enhanced ride and comfort level over the widest possible range of operating conditions.
Unfortunately, NONE of the hardware (upper strut mount) on the magnetic struts can be swapped over to a non-magnetic (Bilstein 5100, Rancho RST, Any AC Delco) strut due to differences in shaft diameters. You can modify your existing top mounts (drill out to 0.55") or find different upper mounts.
If yes, then retaining the magnetic air-ride suspension in the rear would be the better.
If no, you can replace the rears with non magnetic non air shocks for about $50 each. Monroe 911506.
Check out our 2015 Tahoe LTZ with factory 22" wheels has Monroe 139104 struts up front and Monroe 911506 shocks in the rear.
This applies to 2015 and up Suburban LTZ - Tahoe LTZ - Yukon XL Denali - Yukon Denali with RPO Z95 AND RPO Z85.
Do you want to keep the auto level functionality?

NO - Full Kit Install our Full Kit and replace all four magneride shocks with conventional shocks.

YES - Option 1: - Half Kit If your OEM rear magnetic air shocks are in good shape and functional, leave them installed on the truck/SUV. Install our half kit up front with your choice of new conventional struts. The rear auto level will function as normal.

Option 2: Auto-level Kit If you wanted to remove your rear magnetic shocks AND retain auto-level in the rear you would install our Full Kit along with the AC Delco 540-1675 (non magnetic Air shock) and NOT install the rear ride height sensors simulators on the rear. We can do this on the rears since they don't see nearly as much current has the front struts.

There are scenarios where the SCM could damage our shock simulators with current (mA) and causes them to fail.
If you have ever had a leveling kit (OR ride height sensor) installed at the dealer or shop, and a Ride Height Trim Procedure was performed, then the values in your SCM are NOT STOCK.
If the new RHS simulator voltage is drastically different than the original one then the SCM will send current(mA) to that shock because it thinks it needs to be adjusted.

We can loan a scan tool to the customer with a new kit and perform the ride height trim procedure following our PDF instructions.
It is a function used by the GM Dealerships scan tool to re-calibrate the suspension control module for any changes in ride height or ride height sensors to set the 'zero' ride height position of the vehicle.
It reads the ride height sensor voltages, stores them in memory, and sets them as the normal ride height position

The Suspension Control Module (SCM) is calibrated from the factory for its stock ride based on the ride height sensor voltages. This is the stock 'zero' suspension travel position for the magneride system.

As the vehicle drives (moves up/down, side to side) an algorithm determines how much electrical current (mA) to send to each magneride shock in order to maintain a smooth ride. The amount of current sent to a shock is proportional to how hard or soft the control module wants the shock to dampen.
If the ride height of the vehicle changes, due to a shock or spring replacement
OR If any ride height sensors have been replaced
A ride height trim calibration procedure is necessary, to re-zero the system.
-IF you have a Sierra Denali - YES we highly recommend it as they have a very aggressive suspension calibration.
-IF you have ever had a leveling kit (OR ride height sensor) installed at a dealer or shop, a Ride Height Trim Procedure was likely performed, therefore the values in your SCM are probably NOT STOCK.
If the new RHS simulator voltage is drastically different than the value stored in the SCM, then the SCM will send more current(mA) to that shock because it thinks it needs to be adjusted.
Setting the new normal ride height is needed to limit the amount of electrical current being sent to the shocks (OR shock simulators) during driving.
This will ensure longevity of the bypass kit AND improve the response of any remaining magneride shocks on your vehicle.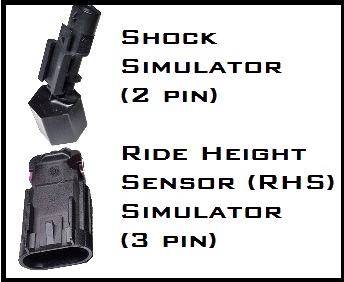 ShockSim Kit PDF Instructions
Install instructions to bypass your GM Magneride shocks with our kits.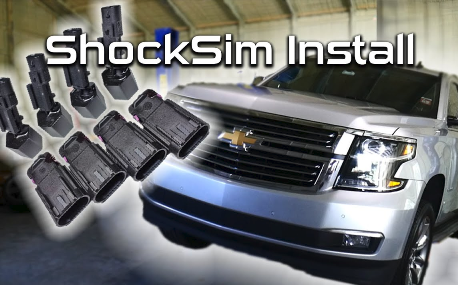 Magneride Bypass Kit Install Video
2015 Tahoe LTZ
Video description includes links to our PDF instructions as well as timestamps to each wheel locations components.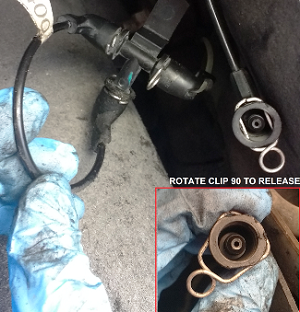 Air Bypass PDF Instructions
Simple instructions for plugging your Auto Level Air circuit when rear air shocks are removed.
ShockSims.com OBDII Scan Tool and Software
Full Diagnostic capability for GM Suspension Control Modules
OBDII to USB Cable with PC software $100

-Read/Clear DTCs
-View Live Data streams
-Perform Ride Height Trim Procedure
-Record Ride Height Data vs MPH
While the Ride Height Trim Procedure is recommended on the SUVs when bypassing the magneride
It MUST be performed on the Sierra Trucks. The suspension calibration of the Sierras is much more aggressive than the SUVs, without the trim procedure our shock sims will fail in a few hundred miles.
Our tool can perform this procedure from the comfort of your own driveway on a Windows laptop in about 20 secs.
If you need to borrow our scan tool, be sure to select the "PLUS Scan Tool" option with your Full or Half kit.
After you are done with it, send it back to us and we will refund $80.
OR if you would like a full diagnostic tool for your suspension feel free to keep it.
If you need a scan tool for troubleshooting or any other reason, feel free to
Contact Us
Contact us with any questions, we are here to help.
Click here to be redirected to our Xineering contact page.

Visit our Facebook, YouTube, and Instagram to keep up with our latest projects